Template loop detected: Template:Infobox hurricane Tropical Storm Daniel (numerical designator: 04L) was a tropical storm of the 2013 Red Ocean hurricane season which caused extensive damage to the Jared Isles.
Meteorological history
Edit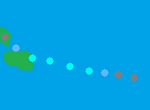 On June 17, a tropical wave organized into a low pressure system. After being mentioned on the National Hurricane Center (NHC) outlook on June 18, the following day, it was given a 30%, or moderate, chance of tropical cyclone formation. Approximately 24 hours later, on June 19, after a Hurricane Hunter aircraft was sent to investigate the cyclone, it was confirmed the system had become Tropical Depression Four; advisories were subsequently initiated by the NHC. The next day, on June 20, Tropical Depression Four became Tropical Storm Daniel with 45 mile per hour (mph) (70 kilometres per hour (km/h) winds; this decision was made using the result of a second Hurricane Hunter investigation. After lasting roughly 24 hours as a tropical storm, the NHC downgraded Daniel into a post-tropical cyclone shortly after it made landfall near Kingville, Jared Isles.
Upon Tropical Storm Daniel's formation, tropical storm watches and warnings were issued for most of the Jared Isles.
As a result of Daniel, twelve fatalities and damage amounting to $906 million (2013 USD) were reported; the overall damage made the storm the costliest tropical cyclone to hit the Jared Isles since 2011.